Recipe for Success: The Anatomy of a Great Blog Post
Too often, writers are unaware that the information they're publishing is subpar, and this hurts their SEO and conversion ratings.  At Relaborate, our goal is to create a tool that allows companies to effectively create and share impactful content.  The best blogs not only optimize search engine performance, they also drive readers to share the content with their own friends and followers.  Instead of focusing on Relaborate itself, this article features blogs from a few of our favorite websites, which we believe are prime examples of properly laid-out blog posts.
1. Stand Out Title
We all know that "you can't judge a book by its cover."  People often do, however, judge a blog post by its title.  The title is frequently your only chance to hook the audience and convince them to read your post.  An effective title is clear about the content of the article, allowing the reader to immediately understand what's being discussed.  It provides just enough information to entice the reader to look inside and see what the buzz is about.  Check out our post 5 Tips for Winning Blog Post Titles for help improving your blog titles.
2. Memorable First Paragraph
After the title, the lead paragraph is the second most important component in convincing a reader to continue reading a post.  First impressions are key, and if a reader doesn't like what they're reading after the lead paragraph, they'll move on to another article instead.  The very first sentence alone can sell the rest of your piece to the audience.  A quote or witty introduction can make all the difference in the world.  For more info see: How to Write Irresistible Blog Intros.
Great Blog Example: BHorowitz
3. Images, Pictures, and Graphics
Realistically, nobody actually enjoys staring at a wall of text.  Placing a relevant image in an article is a breath of fresh air for the reader and keeps things interesting.  Perhaps an image won't be worth a thousand words, but it very well may be worth at least a couple hundred.  For more info see: 5 Ways the Right Photo Can Get You More Blog Readers.
Great Blog Example: UnBounce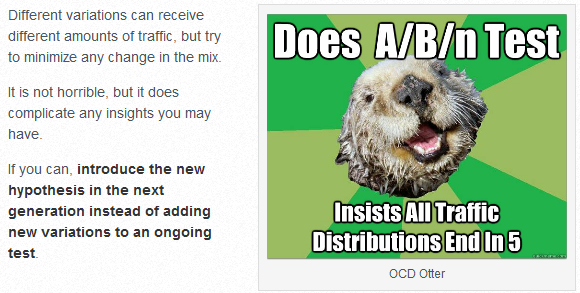 4. Links
Links are fantastic tools to implement in blogs because they provide additional information or a new perspective without overly lengthening the original post.  Using reputable sources increases the credibility of a blog post, drives traffic deeper into your website, and provides a positive SEO boost.  For an overview about links, reference our Link Basics article.

5. Infuse Something Personal
Remember, blogs don't have to be dry and boring!  Infusing something personal doesn't have to mean writing about a life story; it could be as much as a little joke here and there.  The reader just needs to be reminded that the author is also human and in many ways, exactly like them.  Personal insights create connections between a reader and the author, and this keeps the audience interested.  (Did you know that I'm an avid tennis player? Well, now you do).  For more info see:
Giving Your Blog a Personal Touch
.

Great Blog Example: A VC
6. Structurally Sound
I can't stress enough how important it is for a blog post to be properly organized and presented.  Formatting with section headers and bullets make a piece "readable."  Posts that break up the text and provide visual aids for the reader to follow along make reading less of a chore.  For more info see: How to Format a Blog Post.

7. Close the Sale
As it's the last thing a person reads, a conclusion can create a lasting image on how a reader feels about a post.  A weak conclusion can lower the quality of an otherwise well written piece.  A good close does not leave a reader disappointed; it encourages them to share the post with others in their social networks.  For more info see: Writing an Effective Conclusion.
Great Blog Example: SEOmoz

So What Now?
Of course, it's essential that the main body of a blog post contains quality content.  Incorporate the previously mentioned tips such as images, proper structure, and links into the the main body and your blog post should shine.  Do you have any of your own favorite methods that aren't covered here?  Leave a comment!
This post was created using Relaborate's Informational Template. To try Relaborate for free, please visit http://signup.relaborate.com/!